Australians and New Zealanders have the opportunity to provide sight restoring transplant treatment to another person, by becoming a donor. This usually involves the donation of the eye, though primarily the cornea, at the end of life. Donations, referred to as tissue, can also help train surgeons and assist researchers involved in the examination and prevention of eye conditions, or those helping to find new treatments for a range of conditions.
Australians can register their intent to become a donor, at any time, on the Donatelife-Medicare Donation Register. New Zealanders can find out more information via https://www.donor.co.nz/facts-and-myths/
Depending on the circumstances, donors may be offered the chance to donate, via their next-of-kin, at the end of their life. At that point, further information about donation is provided and consent completed. Consent includes confirmation of willingness to donate for transplantation and/or training and research.
Placenta donation
New parents have the opportunity to donate their newborn's placenta. A layer of the placenta, called the amnion, can help people with a range of wound healing procedures, and can be used to help people with surface eye injury. Depending on the circumstances, expecting parents may be offered the chance to donate the placenta. At that time, information is provided, and the parents and consent is confirmed. For further information see FAQ.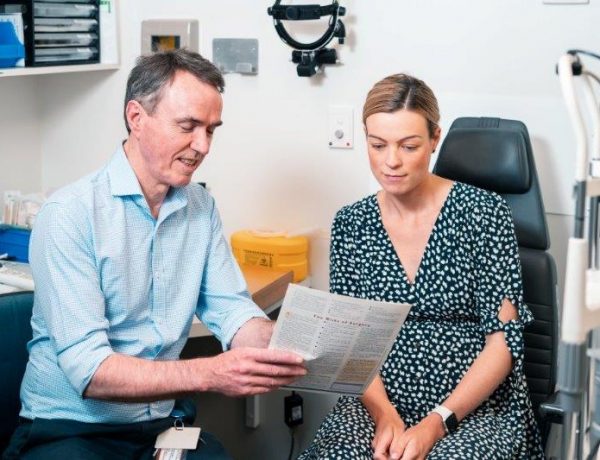 Becoming an eye tissue donor
If you are an Australian or New Zealander, you can donate your corneas or other parts of your body at the end of your life. Consent is confirmed by your next-of-kin. During the consent process, your next-of-kin is asked if you wanted to become a donor. They may also ask if you were willing to donate toward transplantation and/or research.
To assist your next-of-kin, it is important to let them know today, what your intent is. You can also register your intent to become a donor on the Donation Registry. The Registry is used by the Eye Bank to understand your intent and ensure your wishes are met.
Please register your intent today by visiting Donatelife Australia or Organ Donation NZ   
Tissue donations are used in transplantation to help restore or maintain the sight of other people. This is their only treatment option.
Tissue can also be used for research and training. This helps many more people by training future surgeons and assisting clinicians and researchers to understand the eye and eye conditions and supports the development future treatments.
Eye tissue transplantation
The sclera is the white of the eye. It can be used to help people with ocular tumours or cover a valve implanted into the eye to help people with glaucoma. To find out more about glaucoma please visit Glaucoma Australia or Glaucoma NZ
The amniotic membrane is turned into a tissue graft and used as an open wound dressing, known as a biological bandage. It is an effective treatment option for serious wounds, eye injuries and burns as well as other topical applications. The donor program is currently only available in North Sydney and Auckland. For further information please visit the NSW Tissue Banks and New Zealand Eye Bank
When consented, donations help to train eye surgeons to perform surgeries. They also help train eye bankers to prepare and handle tissue ready for transplantation.
When consented, donations can be allocated to ethics approved researchers who are involved in a range of medical-research areas. Research donations help to understand the anatomy and physiology of the eye, associated conditions and diseases, and the development of treatments. Currently, EBAANZ Eye Bank Members provide research consented donations to researchers examining a range of conditions of the eye (e.g. corneal, glaucoma and retinal conditions), and other health conditions (e.g. diabetes, and Alzheimer's).